The schools of the Carnegie Mellon College of Fine Arts fuel the creativity of artists, designers and architects through an immersive conservatory-inspired arts education that engages with the university's strengths in science, technology and the humanities.
The College of Fine Arts is a place that expands society's notions of what art can be. It's where conversation is sparked, ideas are cultivated, perspectives are shared, minds are changed, genres are reinvented, and humanity is restored.
With your support, we can work toward innovations and expressions that address the world in which we live, how to make it better, and how to work together to create global solutions that preserve and sustain our built world.
What will you and the College of Fine Arts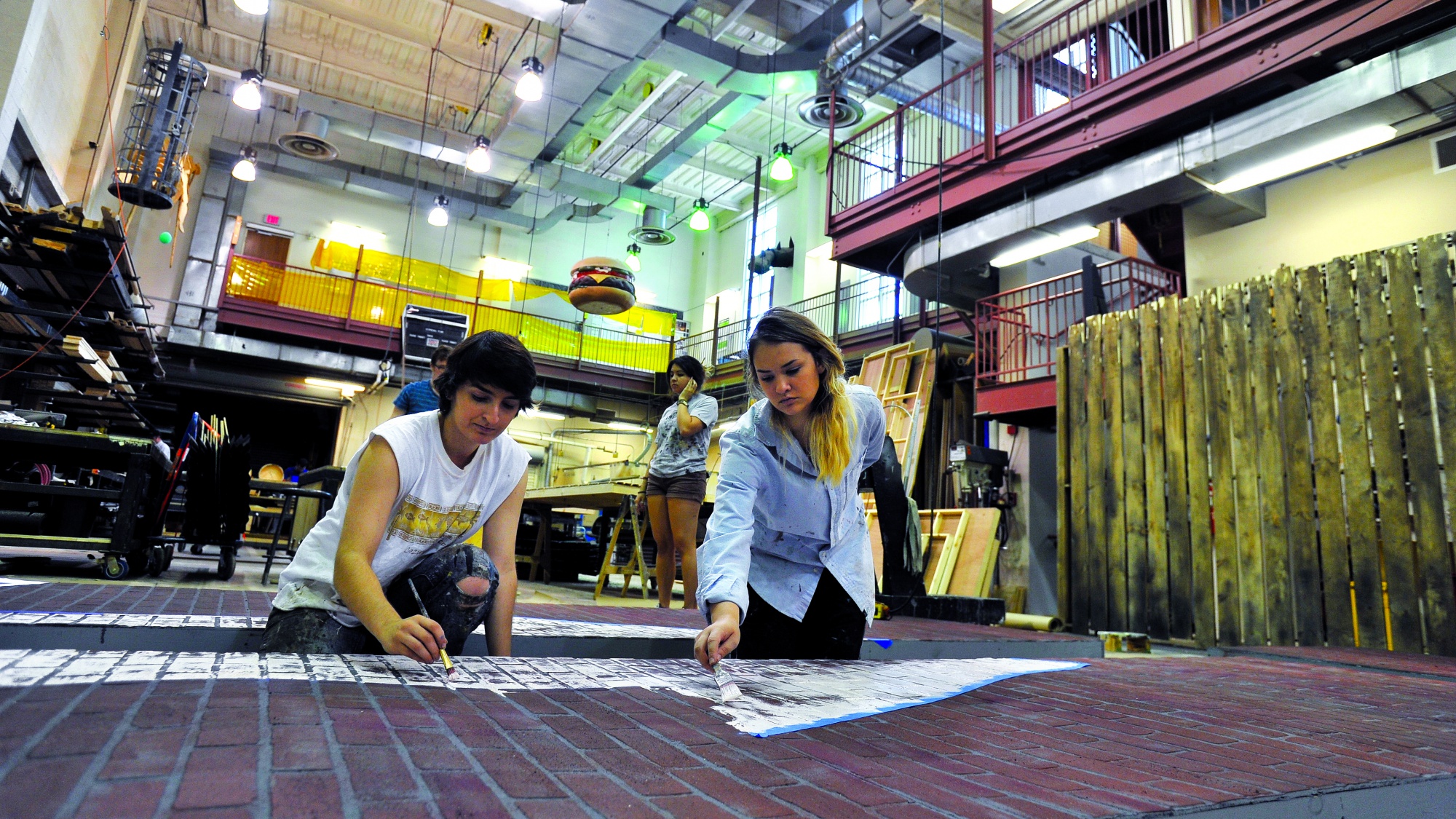 Elevating arts education with dynamic spaces for creation and performance
By giving our students the finest arts facilities in higher education, we'll provide them with fertile, technology-enhanced ground to grow their artistic vision and hone their talents. Your support will make bolder creative expression possible.
Help us make it possible
Supporting excellence and diversity in the arts by increasing access
By actively seeking out talented artists from all backgrounds, we will facilitate creativity across cultures, communities and experiences, which will make our work even more powerful. Your support will foster an inclusive and diverse atmosphere  that inspires greater creativity.
Help us make it possible
Enriching the human experience by supporting creativity and discovery
By offering security and support to practicing artists and professionals, we will attract and retain faculty who continually seek to push their work forward, enrich the educational experience for our students, and shape the future of artistic endeavor for generations to come. Your support of faculty will inspire their work and give young artists invaluable mentorship.
Help us make it possible
Elevating our world. Pushing culture forward.
Help us make it possible
With your support of creation
and performance spaces,
we will:
Expand initiatives that integrate arts and technology
Open up spaces for creative exploration
Renovated and Transformed Facilities
Create spaces that promote learning, making, creating and performing at the highest level possible — across all the schools of the College of Fine Arts. Great environments inspire students and faculty to do their best work, and prepare them to enrich a modern, technology-enhanced world.
Faculty Research Funds
Inspire faculty with funds dedicated to promoting high-quality research and creative endeavors.
CFA and School-Specific Innovation Funds
Fuel innovation at the College of Fine Arts and its five schools by giving us the flexibility to seize emerging opportunities, take advantage of new ideas, and enhance the college's and schools' ability to attract gifted faculty and students from around the world.
With your support of diversity and inclusion initiatives, we will:
Ensure that talented undergraduate students can benefit
from a CMU education
Increase diversity among our student body
Scholarships
Recognize talented undergraduates with merit-based scholarships that fuel their artistic and creative passions and build a student body that thrives on diverse perspectives.
Fellowships
Unlock a world of creativity for the next generation of artistic innovators and leaders, by opening up a CFA education to skilled graduate students, regardless of their financial circumstances.
Experiential Learning and Student Travel Funds
Expand our students' interactions with and throughout the world, by funding travel and other experiences that offer fresh inspiration to create, make, explore and perform.
With your support of creative minds across CFA, we will:
Attract top artistic talent
Cultivate creative freedom
Professorships
Fuel faculty with funding that empowers their creative pursuits
and furthers their teaching goals, while helping us recruit and retain
the best professors and artists.
Program and Research Center Support
Accelerate the genre-defying and groundbreaking innovation that's happening in interdisciplinary initiatives like the Design Center,
the Frank-Ratchye STUDIO for Creative Inquiry, BXA Intercollege Degree Programs, and the Miller Institute for Contemporary Art.
Visiting Artists and Lecture Series Funds
Broaden the education of our students by exposing them to a cross-section of practicing artists, educators, researchers  and theoreticians.
Discover what you make possible in our schools and programs
Support for key school-level initiatives will accelerate the training of the next generation of creative leaders to make significant contributions to their disciplines and society.
School

of

Architecture

Tell Me More
Funding opportunities in the School of Architecture:
Merit Scholarship Fund
Fellowships Fund
Head's Innovation Fund
Parents Fund
School

of

Art

Tell Me More
Funding opportunities in the School of Art:
Head's Innovation Fund
Innovative Technologies Fund
Lecture Series Fund
Parents Fund
Merit Scholarship Fund
School

of

Design

Tell Me More
Funding opportunities in the School of Design:
Merit Scholarship Fund
Fellowships Fund
Head's New Initiative Fund
Student Experience Fund
Parents Fund
School

of

Drama

Tell Me More
Funding opportunities in the School of Drama:
Drama Student Travel Fund
Visiting Artists Fund
Season Production Fund
Showcase Fund
Head's Creative Initiative Fund
Merit Scholarship Fund
Parents Fund
School

of

Music

Tell Me More
Funding opportunities in the School of Music:
Heritage Scholarship Fund (Merit)
Piano Fund
Violin Scholarship Fund
Chamber Series Fund
Parents Fund
Head's Innovation Fund
Cross-Disciplinary

Programs

Tell Me More
Cross-Disciplinary
Programs
Funding opportunities in the CFA's cross-disciplinary programs and research centers:
BXA Intercollege Degree Student Experience Fund
Frank-Ratchye STUDIO for Creative Inquiry Fund
Miller ICA Fund